So Cardiff Start, yeah? Home to a group of entrepreneurs worth over £1,000,000 to the local economy. How about £10,000,0000? So that the group can bandy these sort of statements around with confident gusto, Robert Lo Bue created a completely anonymous survey for the group to fill in. It's simple, quick and all details posted are completely confidential (the only personal data is your age group). The results of this survey will be a powerful tool in asserting how important the members of Cardiff Start are collectively. And, let's be honest, it's easy for start-ups to forget they're making a very tangible difference to their local economy. Take two minutes out of your day and fill in the survey here (if you haven't already).
---
Another big story this week was the possibility that Cardiff Start could be 'officially launched' at the Cardiff University Enterprise Conference on October 18th. Neil Cocker was looking for a hand in manning the (virtual or otherwise) stand at the event and was inundated with replies.
Keep an eye on our Facebook group  for further information as it comes in.
Turns our that the University's conference is on the same day as another start-up event, namely the StartUp Britain's bus arrival in Cardiff.
The StartUp Britain initiative is not, as is commonly thought, a government project but a private one founded by a group of entrepreneurs.
The bus will be at Cardiff and Vale College on the 18th from 1.30pm – 5pm after making the journey to us from UWE. The remit of this year's tour is to invigorate the youth of the nation and the tour will aim to enlighten, educate and enthuse those students taking the brave option of doing it for themselves.
If you'd like to visit the event (or volunteer some time to mentor), all the details are on startuptour.co
As always, all of Cardiff's entrepreneurial and techie events can be found on the Cardiff Start calendar here.
---
All the chatter about start-up buses and university conferences has really highlighted the use of the Facebook group as an excellent source of events information.
So here's a summary of some other Cardiff-based events that have showed their faces on the board this week:
Jonathan Morgan let the world know about Entrepreneurs Wales 2012. It's on November 14th in City Hall and it's a "one day conference designed by entrepreneurs for entrepreneurs looking to start, develop and grow their business". Details here:https://registration.livegroup.co.uk/entrepreneurswales2012/
Greg Bednarski is the chap responsible for letting us all know about Cardiff Internet Marketing. He was also kind enough to let everyone know about a speed networking event taking place on September 25th at the Copthorne, Culverhouse Cross. Details and registration here: http://ms.fs4b.wales.gov.uk/events/event.aspx?id=CMP-15055-2V33LM
---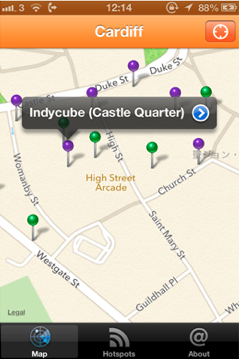 Robert Lo Bue also showed off his newest contribution to Cardiff Start, the CDFHotspots app. It's available to download for free, for iOS now. You now need never be without wifi again.
---
Just to prove that there's actual work getting done too, the board is now an active hive of discussion on enterprise software solutions. Positive and negative, all the feedback is there. What we've discovered this week:
Collaborative working tools such as Huddle and Basecamp make sharing projects with both your clients and your customers easy. There's a freebie trial on both, but hardcore bootstrappers can keep it free with a combo of Dropbox and Google Docs (thanks, Warren Oscar Fauvel).
In the same vain, Trevor Daniel shared his love of collaborative working tool Trello.
---