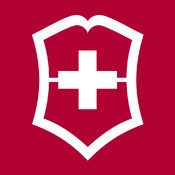 Festival Ready – Free – iOS and Android
It's rapidly approaching festival season and you may be getting ready to smell bad for three days, get rained on and watch very little of the music you actually paid to see. If you are, then our app of the week by Victorinox, one of the Swiss Army Knife manufacturers, may be of interest to you.  It's one of the latest in an exciting trend of augmented reality apps.
The app is packed with helpful features for when you get to a festival, a torch function to see where you're going, a very distinctive siren to grab peoples attention and a scrolling LED style display for writing messages on.  You can also check on the weather through the app to see if you need to be wearing your flip flops or wellies for the day.
There's a checklist to help you tick off everything you need before you leave and a built in store which sells festival essentials like tents, bags and jackets. As the app was made by Victorinox, it also sells Swiss Army Knives, the irony is that most festivals have a strict no-knife policy, so if you were to buy one of their festival edition knives, it will probably get taken off you upon entry.
The best part of the app is the navigation function, though.  You can drop pins on a map to help you find your way back to your tent, the best burger van or those guys who were giving out the vodka jelly.  You can either view the map using the traditional top down view or the apps augmented reality '3D viewer' which displays all of your pins as floating arrows and their distance from you.
On the whole it's a good app,  the UI is easy to use, all of the features are great for a festival environment, the 3D view navigator will make finding your way around simple, I'd almost say it's a festival essential. Just as a side note though,  I downloaded the app and had a play with it for about half an hour and it drained the battery on my iPhone 4s by about 15%.  This is just on one device but bear in mind that charging your phone at a festival is going to be tricky. Augmented reality apps are cool, but they use a lot of energy!