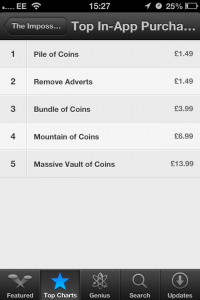 It's a discussion that has raged for quite some time, how should developers make their money from app downloads? You can read about how to make money from app downloads in a previous blog post. Following a discussion in the office the other day, we stumbled upon the question – are in app purchases putting off potential downloads? Are people not downloading apps based on the fact that they see that little plus icon in the box that says 'free' when they download an app?  We thought we should have a look into it.
The obvious first point of call was to look at the App Store and take a look at the top free apps, after going through the 20 top apps in all categories and then going down into some of the smaller categories, it was quite clear that people weren't. At least 80% of the top 20 free apps had in app purchases in them, all to unlock new features or to get premium content, on top of that, of the top 20 grossing apps, about 90% of them were free with IAP's. this just shows that people are not only downloading apps with IAPs but they are also spending the money on them more than they are spending money on paid for at download apps.
So does this mean that IAPs are a good thing? Not always, the amount of games that have them to unlock additional features and games without a cap on the level of purchases is quite alarming. We've all heard the horror stories of children spending thousands of pounds on extra coins or ammo in a game, leaving the parents with a huge bill that they have to go to court to get lifted. Not only is this decreasing the user experience with the game, but also damaging to the reputation of both the game and apps in general.  Outside of gaming there is another problem, a lot of apps which do the same thing are available at different price levels, for example there is a paid for, a free with IAPs and a free with adverts version of the London tube map, who is going to download either of the apps that aren't the free with adverts one?  In this instance customers will be put off by IAPs but only because there are similar apps available without them.
So looking back at the original discussion we had, are in app purchases putting off potential customers? Not at all, in fact it still seems that customers are happy to get a free version of the app and pay to unlock features at a later date. More so than paying for the app at download in fact, this is presumably because it gives the user an opportunity to trial the app , before deciding if they want to spend any money on it. So it looks like this is still the best way for developers to release their apps to still get healthy download figures, that is of course if they do their research first and don't simply copy another app which is already free and just as good.