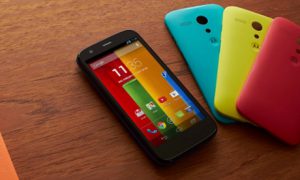 After Google acquired mobile phone manufacturer Motorola, there was a lot of speculation as to why the Android developers would want a mobile phone manufacturer.  The obvious answer was patents, considering you can't seem to go a few days without seeing some kind of patent lawsuit appearing in the news.  However the launch of the Moto G phone tells a slightly different story.
Android has always been considered the lower cost smartphone option, with iOS standing proud at the premium end of the smartphone market with Blackberry and Windows sitting comfortably in the middle.  However since the launch of the first Android smartphone (the HTC Dream) various phone manufacturers have adopted the platform and cheapened the name beyond the budget end of the scale that Google were aiming for.
Numerous phones have been launched without the proper specification to run the version of Android that comes with the phone, leaving users with a slow and laggy device that served no hope of upgrade, potentially for up to two years.  This, more than anything else, has damaged the Android brand, leaving some people to believe that unless they go for some manufacturers flagship Android models they will end up with a similarly underperforming phone.
The newly launched Moto G, is a game changer though, without going into too much technical detail about the specification of the phone; it's a reasonably fast device which is packed full of features and sits at a price point of £135 sim free and without a contract.  By not loading the phone up with manufacturers 'bloatware' and by not including 4G support (something which no phone can fully take advantage of yet) They have kept the price down and released something which Google are proud to put their name to (assuming of course that the 'G' stands for Google).
The closest I can think of to the Moto G in terms of lacking in Manufacturer add ons and being a fast, reasonably specced Android phone is the Nexus 5, which comes in at over double the price of the Moto G at £299.  This launch is one that's drawing a lot of attention from the tech industry and looks like it's going to be a serious contender in the smartphone market.
This does of course come only a few months after Apple launched their 'budget' iPhone 5c which is the cheapest handset that Apple offer and still comes in at £469 brand new, almost three and a half times more expensive than the Moto G.