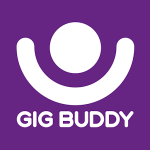 This week we're taking a look at an app from quite an interesting partnership of firms, SeeTickets and PayPal.  The app's called Gig Buddy and it's designed to be your ultimate companion for going to live events.  It incorporates the whole gig-going experience, from finding information about the latest show, buying the tickets, inviting your friends, buying the merch and even finding somewhere to get food around the venue.
When you first open the Gig Buddy app you have to sign in using either Twitter or Facebook (which is irritating as you still have to connect your email address to the app). Once you're in, you get the option to invite your friends to use the app or just start finding shows to go to. If you search by all shows, a lot centered around London comes up but filters are available to help narrow the results.  Once you've found something you want to go, be it Gary Barlow or Annie Mac Presents, you can confirm you're going, share it with your friends and buy tickets using paypal.
You get the option to bookmark your favourite artists to stay in the loop about upcoming shows, although if your taste is anything more specific than daytime Radio 6, you might not find anything that particularly peaks your interest in their list of artists to choose from.
As for the rest of the features in the app, these can be found through the menu icon at the top left of the screen (no swipe right to bring up the menu though!).  From this, you can select Store to bring up a smattering of Gary Barlow and Frank Turner t-shirts and keyrings, the selection is small at the moment but I'm sure it'll grow as the app is live for longer.  If you select Eat & Drink you'll access a selection of restaurants locally to where you are that offer deals for buying food using PayPal (much like the Local section of the PayPal app).
The only thing I think Gig Buddy is missing, apart from a few UI tweaks, is the ability to buy train tickets to the venue that you want to get to.  Walking directions are available through the app, but an option to buy a train ticket to get there would be a fantastic addition.  Overall it's a really good app though, and I'd definitely recommend the free download if you go to a lot of live shows.