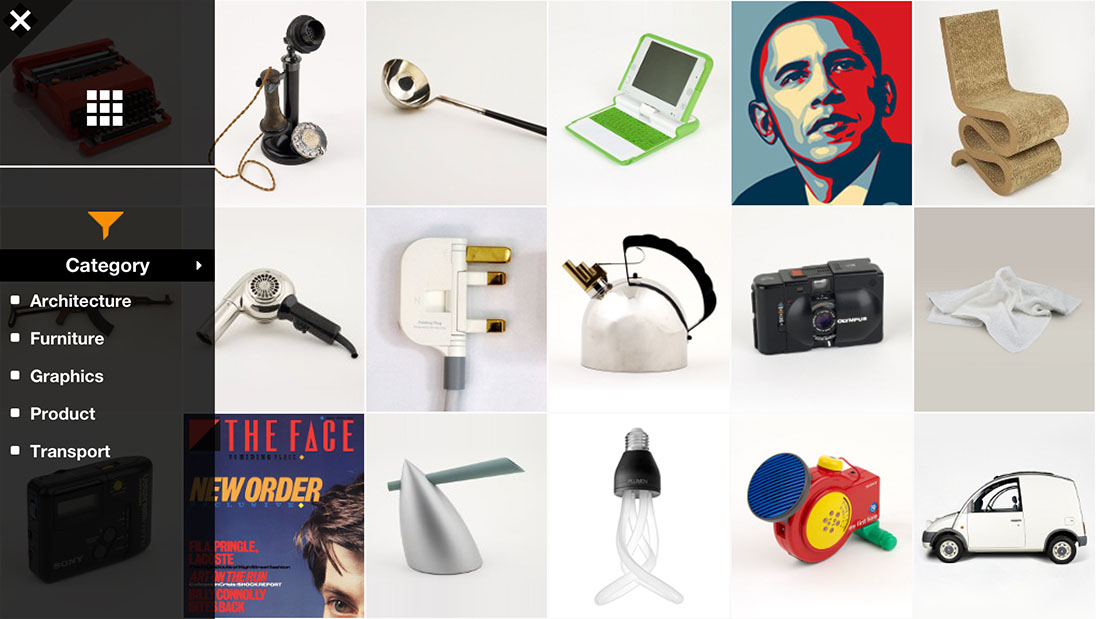 This week we're looking at an app which was released earlier this month, it's been launched by The Design Museum to celebrate their 25th Anniversary and features some of the most important pieces in their collection.  The Design Museum itself is located by Tower Bridge in London and this app should work as an excellent insight into the collection for anyone not in the London area, let's have a look how it shapes up.
First of all, the app can only be downloaded with a Wifi connection – it's in the app store at 191mb and once it's downloaded to your device, it has to make another download which bumps the app to a huge 212mb.  This is slightly annoying, however it does mean the app will work 100% offline, which sort of redeems it.
Once you're into the app you can start playing around straight away, as you would expect from The Design Museum, the interface is delightful.  On iPad you navigate by swiping tiles up, down, left and right to see all of the different objects available for you to get more information about.  On iPhone this is reduced to just two columns which can be swiped up and down, it's a watered down version but still really smart and shows they have taken the smaller screen size into great consideration.
Each tile links to another screen which displays the image in full size, tap on the image to scroll through a gallery.  Move the page down to see a block of text describing the piece, along with a video from one of the top members of The Design Museum staff.  At the bottom of the page you can leave and view comments, favourite it, share the page via social media and see all of the specific categories the piece falls into.  Swipe left and right to see the next or previous piece of work, there are 59 in total to view.
Select the little + symbol at the top left of the screen and a context menu will tumble out, from there you can go back to the main menu, see all of your favourites, filter by a selection of categories and view all of the special content which was released for the 25th anniversary of The Design Museum.  This content is a set of films which are exclusive to the app and will be released on the 25th of every month, all of which feature and interview with someone at The Design Museum.
Overall it's a great app, it gives you a really good insight into The Design Museum, and actually makes me want to make the trip over to London to give it a visit.  The massive size of the application is slightly annoying, but the benefit of having 100% offline content makes up for this.  If you have a bit of an interest in design, I'd thoroughly recommend giving it a download.